Sand daM™ bunker media has been a favorite of golf course superintendents for many years. 
Sand daM™ medias are designed for use in golf course sand traps that are exposed to substantial amounts of rainfall. These products provide protection in two important ways:
Prevents erosion - holds the sand in the trap

Prevents contamination of sand when there is not adequate drainage after a severe rainstorm - acts as a barrier between the sand and soil below.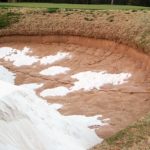 Hi Performance Sand daM™
Prevents washouts and contamination.

Field tested by civil engineers to stabilize sand on slopes as severe as 60°!

Can be cut and trimmed with propane torch to save labor cost during installation.

Will NOT lift out if accidental contact occurs with maintenance tools or golf clubs!

Open-mesh, bonded fibers allow water movement to drains while sand particles remain in place.

No drainage "slowdown"

Constructed of non-biodegradable polyester and synthetic binders.

Sand daM™ has the durability and resistance to withstand all weather elements and is virtually unaffected by chemicals and water conditions found in golf course environments.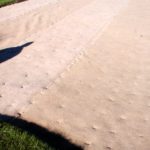 Sand daM™ MR
Ideal for projects where high performance and low cost are required. 

Has excellent erosion capabilities working on slopes up to 50°!

Can be cut and trimmed quickly with a propane torch to help save time and more money by saving labor costs during installation. 

Is made from the same components as our Hi Performance Sand daM™. 

Will not biodegrade under sand.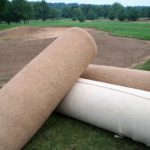 Sand daM™ LITE
Installs in greenside bunkers with low-angle slopes (up to 20°)




or flat-bottomed fairway bunkers.

Prevents contamination of costly bunker sand.

Fiber matrix will not impede water entry into bunker drains!

Engineered to perform and withstand all weather elements or soil conditions.

Is made from the same non-biodegradable polyester, to withstand all weather elements!
Product Features

Hi-Performance
Sand daM™

Sand daM™ MR

Sand daM™ LITE

Fibers

Polyester

Polyester

Polyester

Binder

Non-Flammable




Non-water soluble

Non-Flammable




Non-water soluble

Non-water soluble

Water Permeability

Excellent

Excellent

Excellent

Thickness

¾" to 1"

3/4"

¼"

Roll Weight

36 lbs./roll

36 lbs./roll

63 lbs./roll

Roll Width

75 inches

75 inches

75 inches

Roll Length

50 feet

65 feet

220 feet

Total Sq. Ft.

312 sq. ft.

406.25 sq. ft.

1375 sq. ft.

Color

Tan

Tan

Tan

Bunker Slopes

Up to 60°

Up to 50°

Up to 20°

Erosion Control

Excellent

Excellent

Excellent

Contamination

Excellent

Excellent

Excellent

Roll Capacity




Full Trailers

128

128

96
Using a hand-held propane torch, Sand daM™ can be "cut" FAST with almost surgical precision. Inexperienced installers can make accurate fast "cuts" saving time and cutting down material waste!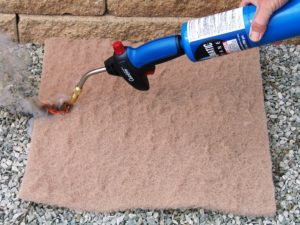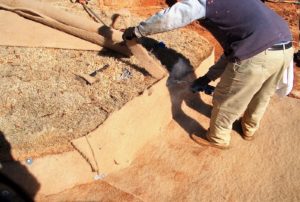 Satisfied Customer Comments
"Now when we get the downpours Houston frequently gets, our Sand daM™-lined traps are ready for play with little or no touch-up," Wille said. "The cost associated with maintaining these bunkers during an entire season has been reduced nearly 100% from years before our renovation. A case in point happened during a tropical storm that dumped 13 1/2 inches of rain in one day. The first bunker we had done 5 years ago showed no signs of sand erosion, nor did the other, more recent ones"
Wille Plowman
Cypress Lakes Golf Club, Cypress Lakes, TX
"Sand daM™ has really helped us in preparing for the Texas Open. It helps prevent washouts from heavy rains that historically occur weeks before the event." 
Brad Hines, CGCS
The Palmer Course at La Cantera
San Antonio, Texas
"We have seen tremendous savings in labor and expense in maintaining our bunkers. Would highly recommend using Sand daM™ for any renovation or new construction project."
Rick Catalogna, CGCS
Pikewood Golf Club
Morgantown, West Virginia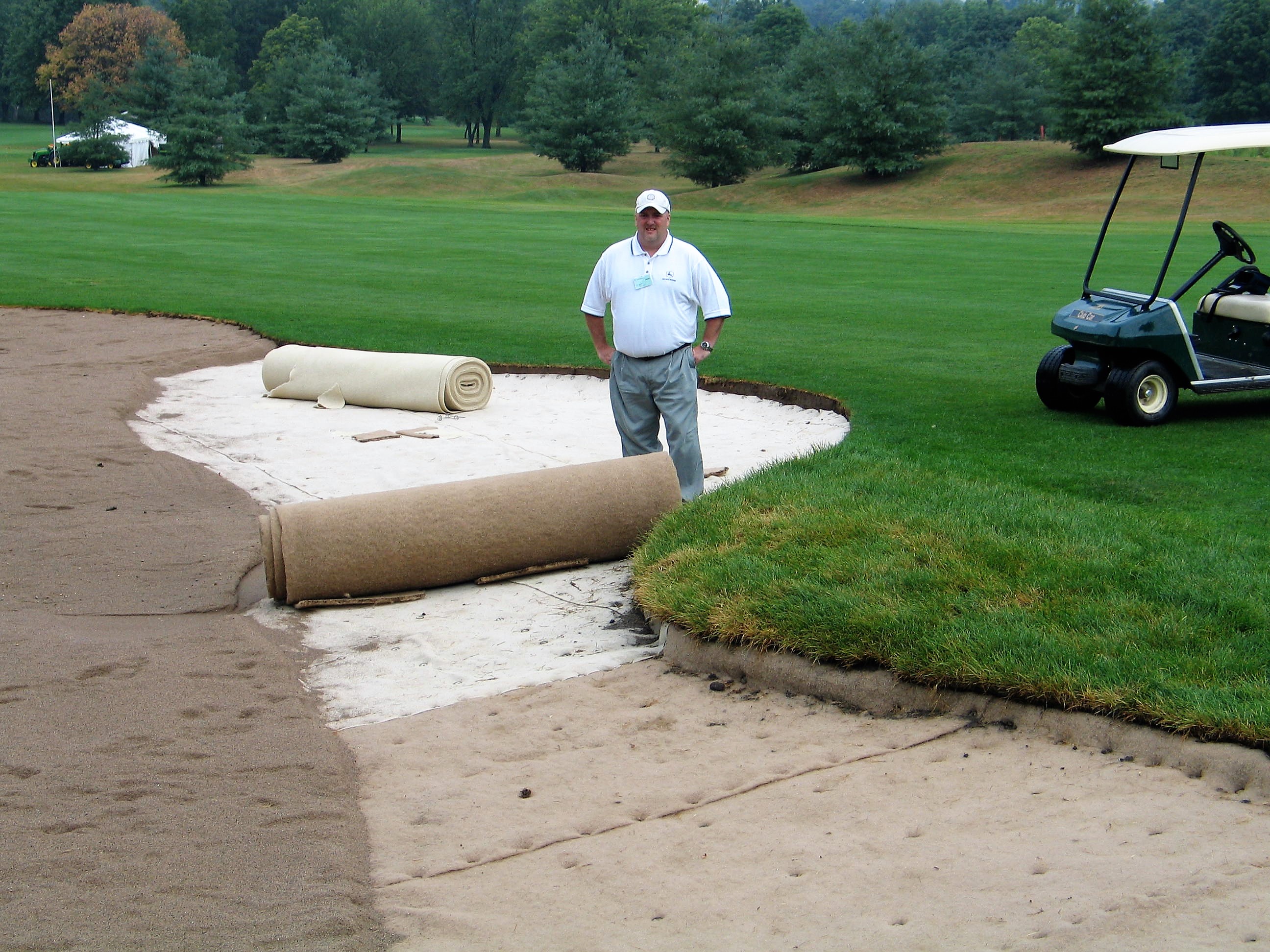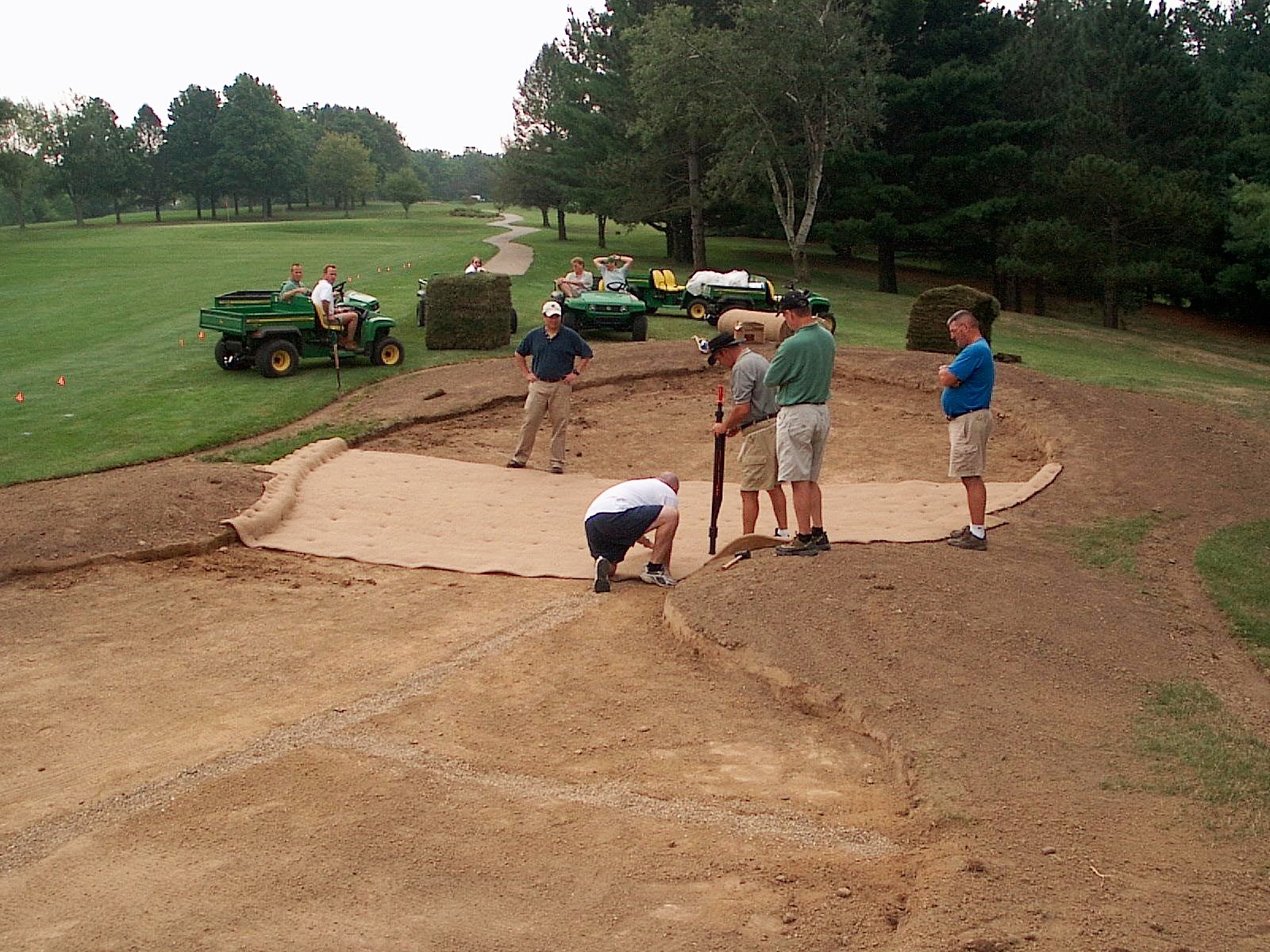 DEALER INQUIRIES WELCOME!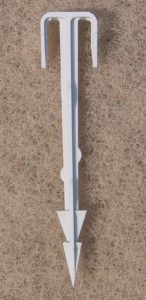 Trident Stakes
Four sided shanks that are 5 3/4 inches long with 4 opposing barbs for unmatched holding power over traditional sod staples.

Made from durable HD Polyethylene which will NOT rust or biodegrade!

Tan color closely matches the full line of Sand daM™ Bunker Blankets

1,000 pins / case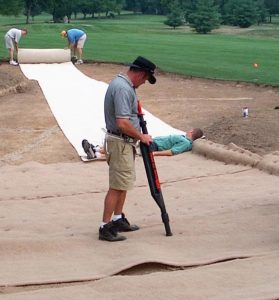 Round Top Drivers and Round Top Pins
Reduces labor and installation costs by as much as 40%!

Operates from a standing position.

Reduces laborer fatigue resulting from kneeling.

Allows operator to install up to 64 square feet of fabric while standing in one center location.

"Jamming" is virtually eliminated due to center driven plunger.

Lightweight and virtually maintenance-free.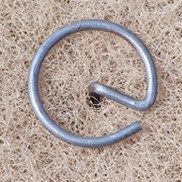 Round Top Pins
When installed with the Round Top Driver, is one of the most advanced products in the industry.

The Round Top head is engineered to hold 5 times the surface area of a typical U-shaped staple. In other words, more surface area means more holding power. 

Will help to reduce labor cost, improve installation and insure the success of your next project. 

The patent pending Round Top Pin is available in multiple gauges and lengths.